Edwin Wilson
est un personnage intéressant, notamment en raison de ses activités en Belgique.
Un lien avec André Moyen est possible vu que ce dernier connaissait Irving Brown et qu'il y a presque certainement eu des contacts entre Irving Brown et Edwin Wilson (port de Marseille, activités syndicales, etc).
Un extrait instructif sur un lien Edwin Wilson - DIA :
https://books.google.be/books?id=0FIWCgAAQBAJ&pg=PA513&lpg=PA513&dq=%22edwin+Wilson%22,+OSS&source=bl&ots=BZJKxyHi9i&sig=v61oyXsgMqhDfaI06QLp56ly0Qk&hl=fr&sa=X&ved=0ahUKEwiJqc-lu_rOAhXJAMAKHS9PA7kQ6AEIHzAA#v=onepage&q=%22edwin%20Wilson%22%2C%20OSS&f=false
Spies: A Narrative Encyclopedia of Dirty Tricks and Double Dealing from ...
Par Jay Robert Nash
(1997)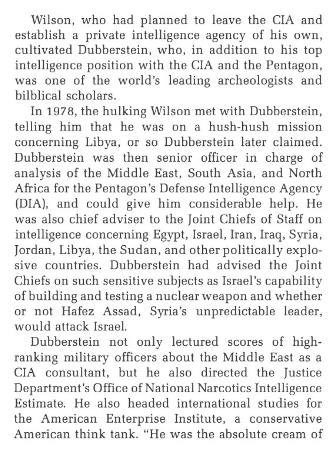 _ _ _ _ _ _ _
Manhunt
Peter Maas
G.K. Hall, 1987 - 430 pages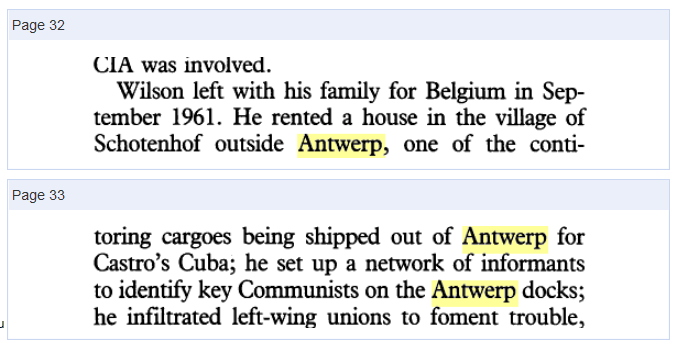 Ce qu'il a fait à Anvers et à Marseille, ainsi que ses liens syndicaux devraient être approfondis...
C'était un proche de
Ted Shackley
et il connaissait aussi
Robert Keith Gray
(voir affaire Dekaise).
Avec l'armurier
Armand Donnay
, il a proposé des installations nucléaires à la Libye. Selon J. Trento, la proposition était sérieuse. On peut se demander d'où venaient les dossiers techniques et comment il est entré en contact avec Armand Donnay.
En ce qui concerne les articles relatifs à
Edwin Wilson
, il faut faire attention aux dates de parution.
http://www.washingtonpost.com/wp-dyn/articles/A59212-2004Jun21.html
http://www.nytimes.com/2012/09/23/us/edwin-p-wilson-cia-operative-with-cloak-and-dagger-life-dies-at-84.html?_r=0
_ _ _ _ _ _ _
https://books.google.be/books?hl=fr&id=wyUhAQAAMAAJ&dq=Back+Channels%3A+A+Quarterly+Publication+of+Historical+and+Modern+Espionage%2C+Assassinations+and+Conspiracies%2C+spring+1993&focus=searchwithinvolume&q=Wilson
https://books.google.be/books?hl=fr&id=wyUhAQAAMAAJ&dq=%22edwin+wilson%22%2C+antwerp&focus=searchwithinvolume&q=Antwerp

L'article suivant est un peu long mais montre les compétences de Edwin Wilson en ce qui concerne les montages de sociétés...
http://jfk.hood.edu/Collection/Weisberg%20Subject%20Index%20Files/C%20Disk/CIA%20Wilson%20Edwin%20P/Item%2002.pdf
(...)
Une version plus lisible :
http://www.nytimes.com/1981/11/08/us/records-show-wilson-made-millions-on-cia-experience.html
RECORDS SHOW WILSON MADE MILLIONS ON C.I.A. EXPERIENCE
By JEFF GERTH, Special to The New York Times; The following article is based on reporting by Jeff Gerth and Philip Taubman and was written by Mr. Gerth  
Published:
November 8, 1981
WASHINGTON, Nov. 7—  Edwin P. Wilson used the techniques and contacts he developed as an intelligence agent to assemble a multimillion-dollar business empire, according to former associates and financial records.
An American agent for more than 20 years, Mr. Wilson is now living in Tripoli, a fugitive from an indictment charging him with illegal dealings in explosives. He works for the Government of Libya, training terrorists and recruiting Western pilots and mechanics, according to United States officials.
He has made a profession of covert operations. From 1955 to 1976 he worked for the Central Intelligence Agency and Office of Naval Intelligence, often with distinction, and became skillful at conducting clandestine commercial ventures for those agencies.
Serving Unfriendly Governments
For the last five years he has continued to practice, as a civilian, the business of intelligence and covert operations, often for unfriendly governments and usually at large personal profit.
Records show that Mr. Wilson's financial assets increased enormously while he was still in the Government and that they now total many millions of dollars.
Many Government employees, from generals to lawyers, leave public service every year and turn their experiences into private profit. But Mr. Wilson's case is special. He is working for countries hostile to the United States, employing his training as a spy, investigations have shown.
For Government officials, his career illustrates a growing problem: Many intelligence and military employees leave the Government and enter civilian life with skills that are not marketable or are illegal in the United States but are in demand abroad. There is, the officials say, the temptation for these agents and servicemen to put their experience to work for foreign powers in a way that is not in the best interest of the United States.
Doing a Job Despite Laws
Stansfield Turner, Director of Central Intelligence in the Carter Administration, noted the problem in a recent article. ''The ethic of intelligence,'' Mr. Turner wrote, ''is to get the job done in spite of local laws.''
At the Central Intelligence Agency, Stanley Sporkin, the general counsel, has said that he is exploring possible measures to control the actions of individuals who leave the agency. Mr. Sporkin refuses to comment on the specific activities of Mr. Wilson.
Repeated telephone calls to Mr. Wilson in Libya have gone unanswered. The date of Mr. Wilson's re-entry into private life is recorded in Government personnel files as April 1976. But an examination of Mr. Wilson's career, from corporate records in several countries and interviews with dozens of current and former associates, shows that his transition from public to private life was blurred.
Continuing Government Links
Specifically, the examination shows these things:
- As a Government agent, Mr. Wilson participated in operations that involved arms smuggling and the intimidation of adversaries. He also learned to set up dummy corporations and secret bank accounts.
- For at least two years after he left the Government, Mr. Wilson used some of the same consulting companies for private deals that earlier served as cover for his intelligence operations.
- As a private businessman, Mr. Wilson maintained business relationships with key American and foreign intelligence and military officials he had worked with while in the C.I.A.
- In the last five years Mr. Wilson has used unwitting organizations for his personal benefit, just as he once used them for intelligence purposes.
- Drawing on his C.I.A. experience, Mr. Wilson created a clandestine international network of dozens of corporations, agents, hideouts, post office boxes and secret bank accounts in the United States, Great Britain,
Belgium
, Switzerland, Malta and Libya.
The Task of Prosecutors
The blurring of Mr. Wilson's public and private activities is of immediate concern to Federal prosecutors. They have already charged Mr. Wilson with conspiring with former C.I.A. associates to assassinate a Libyan dissident in Egypt and with illegally supplying explosives to Libya with another former agency associate to train terrorists.
Prosecutors are also investigating Mr. Wilson's possible involvement in the 1977 shipment of 20 tons of C-4 plastic explosives to Libya, the attempted assassination in Colorado last year of another Libyan dissident and the current recruitment of American pilots and mechanics for the Libyan Air Force.
A more enduring concern exists for the House Select Committee on Intelligence, which is trying to determine whether legislation is needed to monitor or regulate the private business activities of intelligence officials during and after their Government service.
A review of Mr. Wilson's Government career shows that he participated in covert operations and business activities simultaneously. According to a resume he prepared for himself and intelligence officials, Mr. Wilson, while in the C.I.A., ran several companies that served as cover for official intelligence operations.
Millionaire as U.S. Aide
At the same time he was running businesses designed as cover for intelligence activities, Mr. Wilson managed to become a wealthy man. According to credit records, he listed his net worth at $200,000 in 1967 and $2 million in April 1976, the month he left Government service. It is not clear precisely how he made so much money, but Government officials surmies that he benefited from the commercial activities he ran for the intelligence agencies. Intelligence officials say that nowadays its audits would prevent such abuses.
Today, Mr. Wilson's real estate holdings in northern Virginia alone are worth more than $5 million, and his net worth, including land in Europe, Swiss bank accounts and corporate stock amounts to many millions more.
Early in Mr. Wilson's career as a covert operative, he became an officer in the
Seafarers International Union
. He described the union in his resume as an ''unwitting U.S. labor organization in maritime field.''
Involved in Bay of Pigs
In his capacity as a union official, Mr. Wilson helped coordinate various C.I.A. activities against Cuba, including the Bay of Pigs invasion. He supplied foreign agents with arms and took part in operations designed to harass Fidel Castro, the Cuban leader. Union officials said through a spokesman that they would have no comment.
In 1976, after leaving the Government, Mr. Wilson applied the technique of using unwitting companies for his own ends. He became affiliated with Stanford Technology Corporation, a California electronics company that manufactured sensitive surveillance equipment. In his capacity as an international marketing representative, Mr. Wilson used Stanford Technology facilities, letterheads and equipment in attempting to transfer technology to the Soviet Union, Iran and Libya without the knowledge of company officials, according to Stanford Technology executives.
Also in 1976, according to Federal investigators, Mr. Wilson hired three Cuban exiles who had worked for the C.I.A. and were known to Mr. Wilson from his covert operations against Cuba. He reportedly tried to get the men to assassinate a Libyan living in Egypt who was a critic of Col. Muammar el-Qaddafi, the Libyan leader. The murder was never carried out, but Mr. Wilson has been indicted in the case for conspiracy to murder.
In the middle 1960's, after his involvement with the seafarers union, Mr. Wilson set up a maritime consulting concern in Washington,
Maritime Consulting Associates Inc.,
to serve as cover for his intelligence operations, according to company documents.
Consultants International Inc.
A few years later, while still employed by the C.I.A., Mr. Wilson expanded his corporate activities by taking control of Consultants International Inc., another Washington based company designed to be a cover.
In 1971, according to official records, Mr. Wilson left the C.I.A. and became part of a
secret Navy intelligence unit
that, among other tasks, monitored and collected information on Soviet shipment of military goods.
In his tour with Navy intelligence, which ended in 1976, Mr. Wilson ran another undercover corporation,
World Marine Inc.
, according to intelligence officials. Corporate records show that the various intelligence companies operated by Mr. Wilson were usually based in the same set of offices.
Each company provided Mr. Wilson with an explanation for his travels on C.I.A. business. He went to Libya, other Middle East countries, Australia, New Zealand, Indonesia, the Philippines, Brazil and Hong Kong, according to intelligence officials.
But the companies also provided Mr. Wilson with valuable commercial experience. For example, as early as 1970, one of Mr. Wilson's intelligence companies, Consultants International, was acting as the agent for American companies in Libya, according to company documents.
Using His Old Contacts
In addition, he used in his private business various contacts he had made in his Government career with Congressmen, intelligence officials, Defense Department employees and foreign officials. After leaving the Government, Mr. Wilson used several C.I.A. officials on active duty to enhance his business dealings in Libya and elsewhere. He also organized a corporation for a key intelligence official.
The Federal prosecutors are investigating allegations that Consultants International bribed various Government officials to win Defense Department business from 1976 to 1979. Part of the scheme included a plan to eavesdrop electronically on meetings of the Army Materiel Command, according to a former Wilson associate and Federal investigators.
In running undercover corporations for the United States, Mr. Wilson also gained experience in the freight forwarding business. Soon after leaving the Government, Mr. Wilson set up a freight forwarding company called
Aroundworld Shipping and Chartering Inc.
This company, for some time, used the same office as Consultants International and served as the vehicle for some of the illegal shipments of explosives to Libya, according to former officials of Aroundworld.
Some Other Techniques
Other business techniques similar to those he practiced in the Government, according to former colleagues, Government officials and company records, include these:
- In 1976 Mr. Wilson set up an American company,
Inter-Technology Inc
., to handle the illegal transfer of sensitive technology abroad. This company had a name and corporate symbol almost identical with the name and symbol of a legitimate company, Intercontinental Technology, which served as the international marketing arm for Stanford Technology.
- Inter-Technology held the stock of an English financial holding company used by Mr. Wilson to sell explosive timers to Libya. An English businessmen who set up the holding company for Mr. Wilson said the company was really a ''shell'' and that he and ''some of my friends'' acted as ''straw men'' for Mr. Wilson.
- Mr. Wilson operated two corporations named
Delex
, one called Delex International and another called Delex Inc. Mr. Wilson also set up in 1977 a company called
Aroundworld Services Inc
., a slight variation on the freight forwarding company he had established a year earlier.
- Mr. Wilson also operated several companies with the same initials,
O.S.I.
One, called Operational Systems International, was based in Virginia, according to Wilson associates. Another, OSI S.A., standing for Operational Systems and Instruments, was based in Geneva, according to records on file with the Registre du Commerce of Geneva. Mr. Wilson also currently operates an OSI S.A. in Tripoli.
Geneva Office and Apartment
Until the end of last year, Mr. Wilson maintained an office in Geneva, under the name of OSI S.A., in a small downtown apartment building that faces Lake Geneva, according to Wilson associates and the building superintendent. Mr. Wilson often stayed there overnight, according to the superintendent.
Mr. Wilson also used a 127-acre farm south of London, and hid out there from Scotland Yard in 1980 while surreptitiously returning to Libya from Malta, according to Federal investigators. The farm is owned by Mr. Wilson, through a Swiss corporation,
Societe d'Investissements et Immobiliere
, which operates through a Geneva post office box, according to associates of Mr. Wilson.
Many of Mr. Wilson's financial transactions are handled in cash or through Swiss bank accounts, according to participants. Two Swiss banks used by Mr. Wilson are Union Bank of Switzerland and Swiss Bank Corporation, according to bank documents and associates of Mr. Wilson.
Spokesmen for the two banks, which are among Switzerland's largest, declined to talk about Mr. Wilson's accounts, citing Swiss bank secrecy laws. Swiss Companies and Banks
Mr. Wilson's recruitment of Western flight personnel to help staff the Libyan Air Force also relies on Swiss companies and bank accounts, according to participants and company documents.
Though the recruitment is coordinated through a London office, the two main corporate vehicles are OSI S.A. and
Western Recruitment Inc
, which is operated out of a Geneva post office box, according to company documents.
Mr. Wilson and his companies also employ various American and Swiss lawyers based in Geneva. For example, Edward J. Coughlin Jr., an American lawyer, has represented some of Mr. Wilson's businesses, according to several former associates of Mr. Wilson.
Mr. Coughlin has helped register in Liberia some of the companies with which Mr. Wilson is affiliated, according to former Wilson associates and Federal investigators.
Mr. Coughlin met with a reporter earlier this year in Geneva but declined to be interviewed about his relationship with Mr. Wilson. Link Between Two Companies
Mr. Coughlin's business card lists the telephone and telex number of a company called
Business Advisory Services
. Western Recruitment, the Wilson company used to recruit Western pilots for Libya, lists as its address a post office box belonging to Business Advisory Services, according to company documents and postal officials in Geneva.
The C.I.A. also frequently uses dummy corporations and post office boxes. The advantage to the agency and to Mr. Wilson is that such procedures make transactions difficult to trace.
Earlier this year Mr. Wilson was involved in a scheme to transport to Libya spare parts for American aircraft. The scheme required deception, since it is illegal to export such parts to Libya. According to participants in the deal, Mr. Wilson employed one of his companies,
Services Commerciaux et Financiers du Moyen Orient S.A
., a Liberian corporation, to handle the transaction.
A legitimate company in England became unwittingly involved in the deal. Its officers did not realize that Services Commerciaux was connected to Libya or Mr. Wilson. The deal fell apart after one of the participants alerted Scotland Yard.
Company Without an Office
Services Commerciaux, according to sources familiar with its operation, does not have any office of its own but operates in London, Geneva, Tripoli and elsewhere through representative companies, such as OSI.
Mr. Wilson is a principal in the company, these sources say, and there are also Middle Eastern investors. Services Commerciaux was used as a vehicle to pay some of the Green Berets recruited by Mr. Wilson in 1976 and 1977 to help train Libyans, according to participants and federal investigators.
Almost everyone who has come into contact with Mr. Wilson has been exposed to a different piece of his empire - a different corporation, a different address, or Telex number, or business card. Some of these associates say that his empire, while appearing to an outsider to be an impenetrable hall of mirrors - provides the maximum flexibility for someone whose craft is clandestine operations.
Previous articles have reported on Mr. Wilson's recruitment of pilots and mechanics from the United States and Britain to fly and maintain planes for the Libyan Air Force, his attempt to sell restricted American computer technology to the Soviet Union, his use of Army Special Forces troops to train terrorists in Libya, evidence that investigators say links him to the attempted murder of a Libyan student in Colorado and charges that a company he controlled bribed a Federal official. The House Select Committee on Intelligence and the Justice Department are investigating the matter.
Illustrations: photo of business materials said to be used by Wilson