https://www.wiltonpark.org.uk/
Il est jusqu'à présent question de " Wilton Park " dans trois fils de discussion :
libert - schéma de Michel Libert
Les ombres de l'Europe Unifiée
FRATERNITAS SANCTI BENEDICTI PRO EUROPA CHRISTIANNA ...
Plus précisément :
_ _ _
On trouve le nom de Bernard Mercier dans les deux schémas.
Voici ce qu'on en dit sur
http://www.scribd.com/doc/100815521/OPUS-DEI-en-Belgique-1986-extraits-2
(...) Le professeur et administrateur Bernard Mercier, ancien vice premier ministre du PSC, fut secrétaire du CEPIC de 1972 à 1976. Depuis, Mercier s'est converti au PRL et devint membre du Club Roger Nols. Il est aussi membre de la mystérieuse
Société Internationale de Wilton Park
(comme Jacques Jonet), un autre mouvement européen de droite, et de la Ligue Internationale de la Liberté, l'aile belge du WACL, où nous avons déjà rencontré auparavant Paul Vankerkhoven et Robert Close. (...)
Note : la Société Internationale de Wilton Park fut fondée comme haut lieu de dialogue international dans le sud de l'Angleterre par des personnalités telles que Winston Churchill
Wilton Park Conferences, Wiston House, Steyning, West Sussex. BN44 3DZ. UK. Tel +44 (0) 1903 815020 E-mail :
admin@wiltonpark.org.uk
_ _ _
Pour information ...
Sur Wilton Park :
http://news.bbc.co.uk/2/hi/uk_news/4602986.stm
Par ailleurs ...
... le Baron Jacques Jonet, le Président du holding franco-belge Média-Participations, est décédé le 7 avril 2007. Cet avocat au barreau de Bruxelles était par ailleurs représentant de l'Ordre de Malte auprès de la Belgique.
_ _ _
http://www.isgp.eu/organisations/introduction/PEHI_Otto_von_Habsburg_bio.htm
des extraits:
Opus Dei was founded in 1928 and at least in later times this group's objectives would essentially merge with those of the Paneuropa Union: 1) keep the Soviets out of Europe, and 2) create a Roman Catholic-oriented European superstate.
The Paneuropean Union is also responsible for the 12 stars on a blue ground as official symbol for Europe, which symbolizes the stars of the virgin Mary.
Otto founded the European Centre of Documentation and Information (CEDI), "whose objective was to construct around the Spanish Borbóns a federation of European states united in Christianity and anti-Communism.
One of Otto's political secretaries, Jacques G. Jonet, is named as a co-founder of low-profile ultraconservative/fascist European-integration groups as Ordre du Rouvre, the Institut Européen pour la Paix et la Sécurité (IEPS), the Société Internationale de Wilton Park (Wilton Park conferences), and Cercle des Nations. [...] Jonet has been named as a member of Mouvement d'Action pour l'Union de l'Europe (MAUE), the Habsburg-founded Centre of Documentation and Information (CEDI), and CEPIC.
Inter-European unity has long been a quest of the Habsburg dynasty. Otto himself often speaks of the similarities between the Holy Roman Empire of the Middle Ages and his view of a coming United States of Europe. In this regard, Otto has stressed the importance of religion in the formation of a united Europe. He regards Christianity as Europe's bulwark: 'The cross doesn't need Europe, but Europe needs the cross.
_ _ _
pour Rouvre on a parlé de: Paul Van.kerk.hoven, Richard Van Wijck, Vin.cent Van Den Bo.sch, Girogio Gher.ardi Dan.dolo, Gérald Waill.iez, Ja.cques Jo.net, Ju.lien Vander.be.ken, Ro.bert Re.my et Char.les Verp.oorten. d'autres?
si quelqu'un veut la liste du Cercle des Nations, je peux l'envoyer par MP
plus intéressant encore: les membres de l'Académie Européenne de Sciences Politiques AESP (forum opusien/paneuropéen): Florimond Damman, A.ldo M.ungo (MAUE), Otto von Hab.sburg, Antoi.ne Pin.ay, J.ean Vi.olet, père Dubois, Alfr.edo Sanch.ez B.ella, Man.uel F.raga Iri.barne, Giu.lio And.reotti, Ca.rlo P.esenti (>P2), I.van Mat.teo Lombar.do (P7), Hans-Jo.achim von Merk.atz, Paul Vand.en Boeyna.nts, Jacques So.ustelle (OAS), John Biggs-Dav.ison (PEU, Monday Club, SIF), Peter Ag.new (CEDI), John Rodg.ers (CEDI, SIF), Fritz P.irkl (CSU), Hei.nrich Böx (CDU) en Franz Ludwig Sch.enk Graf von Stauff.enberg (CSU, PEU), Vin.cent Van den B.osch (MAUE, CEDI), Be.rnard de Marc.ken de Me.rken (MAUE), Marc.el de R.oover (MAUE, WACL, Milpol, Delcourt), Paul Vanke.rkhoven (CEDI, LIL), Rudolf Dum.ont du V.oitel (PEU, CEE), Alain de Vi.llegas, Elia Gia.ncarlo Valo.ri (P2), Vit.torio P.ons (P7), Hans Graf H.uyn (ISP), Fra.nçois Vall.et (Cercle Pinay), Cees Van den He.uvel (Interdoc), Karl-Friedrich G.rau (ISP), Vign.eau, Bits.chnau, Benoît de Bonvoisin, Fernard Thieb.aud Schn.eider (ISP), gen. Paul Van.uxem (OAS), prof. Leo Mag.nino, Lt-colonel Jean-Victor Ma.rique (...> BROC > Bougerol > PIO); Autres membres et/ou contacts: Marcel Co.llet (Euratom), Alberto U.llastres, Jacques Jon.et, Gaston Ey.skens, Ro.berto Ja.cobo, Ern.est Tött.ösy (P7), Bernard Me.rcier, Wa.lter K.unnen, Ivan-Matteo L.ombardo (voir P2), René-Louis Pi.card (
Wilton Park
), A. Be.kaert, Giovanni Mal.agodi (Bilderberg), Jacques Médec.in, Georges Vi.vario (DSD, menant au PIO), André Vo.isin (EM, Bilderberg), ambassadeur La Orden (Opus Dei), ...
toujours les mêmes !! qu'au Rouvre, Cercle des Nations, MAUE, souvent CEPIC, ... mais aussi P2, Cercle Pinay, clique de von Habsburg (PEU, CEDI), OAS, WACL, ... en contact direct avec Guérin-Sérac (Aginter Press) via Damman, avec Interdoc, avec Emile Le.cerf ... affaires avions rénifleurs, ...
l'AESP a été cité comme loge P1 ! est-elle à l'origine d'une ou plusieures structures type CEPIC, PIO, P2, Cercle des Nations, Milices, ... ? et à l'origine de plans pour coups d'états (NEM en 1973, ...)?
__________________
In Victory, Magnanimity - In Peace, Goodwill: A History of Wilton Park
Par Richard J. Mayne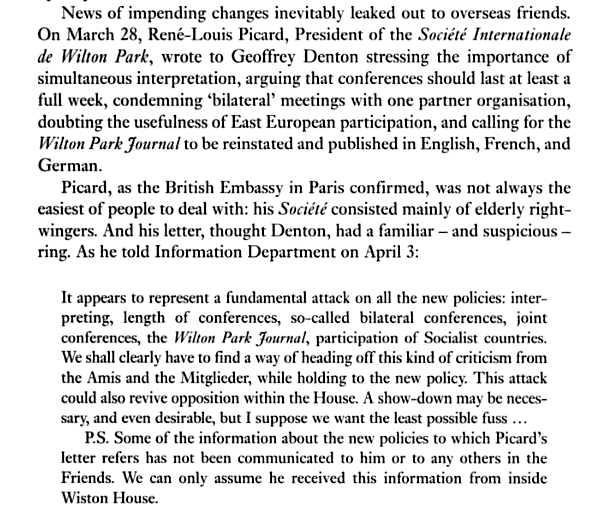 _ _ _ _
A noter aussi : la mention de Jacques Jonet, marié avec une de Bassompierre et avec des liens familiaux avec Guy Cruysmans ...
http://www.bendevannijvel.com/andere/paul_vanden_boeynants.html
(...) De connecties tussen VDB, de Caisse Privé en de familie Cruysmans waren overigens overal zichtbaar. Guy Cruysmans was gehuwd met Chantal de Bassompierre, en de zuster van Chantal de Bassompierre trouwde met de rechtse advocaat Jacques Jonet, een vertrouweling van VDB. In 1979 meldde Vanden Boeynants dat hij slechts eigenaar was van drie stukken onroerend goed, tot de onderzoekers die zich over zijn fraudebezigheden bogen, de vennootschap Immobille du Bastion ontdekten.
Die vennootschap werd beheerd door Daniel Cruysmans en Guy Cruysmans en door de schoonzoon van VDB. De Immobillee bezat vier gebouwen in het Brusselse. De echte eigenaar van de Immobilille du Bastion bleek Paul Vanden Boeynants te zijn. De kans dat Philippe Lacroix en co zwart geld van VDB naar het buitenland hebben gebracht is reëel. Vanden Boeynants had in die periode meer dan genoeg duistere bankrekeningen en spookbedrijfjes in Liechtenstein en Zwitserland, waar een pak zwart geld op terecht kon. En de kans is even reëel dat Lacroix, Smars en Haemers al in het begin van de jaren tachtig - via hun connectie bij de Caisse Privé - goed wisten hoe en waar VDB zijn aanzienlijke appelen voor de dorst verborg. (...)