Guillaume Vogeleer montre une photo prise à Stanleyville (Kisangani) :
https://www.youtube.com/watch?v=ikpa3a7I8xg&t=321s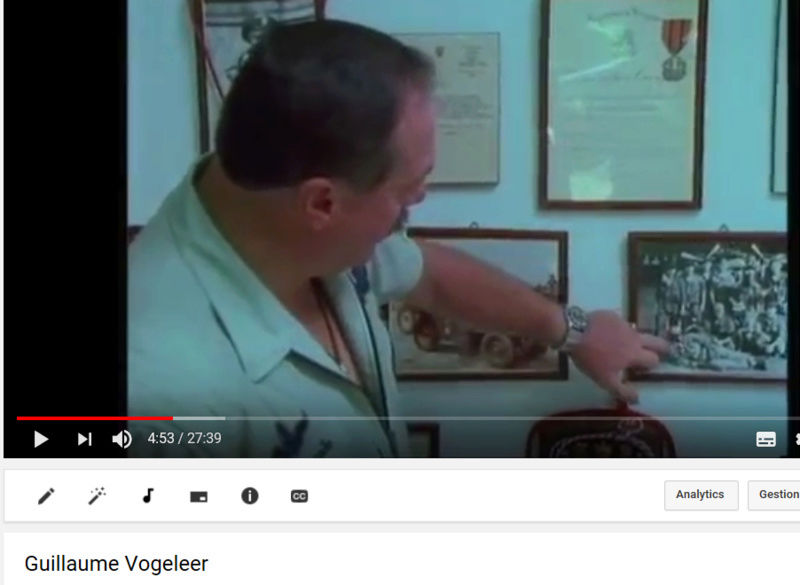 Cela est probablement lié à "l'Ommegang" (
https://fr.wikipedia.org/wiki/Ommegang_(Congo)
) et à la libération des otages des guerriers "Simbas".
Je me demande s'il y a un lien avec l'article suivant où on retrouve les noms d'agents de la CIA comme
Thomas Clines
et
Edwin Wilson
... Thomas Clines sera ensuite l'adjoint de Ted Shackley pour la "guerre secrète" au Laos
https://reassessingcounterinsurgency.files.wordpress.com/2012/02/michaels-breaking-the-rules_-the-cia-and-counterinsurgency-in-the-congo-1964e280931965.pdf
(...)
But a ''successful'' case of U.S. counterinsurgency that has yet to receive
much scholarly attention is the CIA's effort to counter the ''Simba
rebellion'' in the Congo in 1964–1965.
(...)
Over the course of the Simba rebellion, both the CIA and the U.S. military
attache´ in Leopoldville developed a close, albeit covert, working relationship
with the mercenaries, especially with Hoare.
(...)
MARITIME ASSISTANCE
With 5 Commando and the ANC having closed off the Congo border with
Uganda and Sudan in the spring 1965, the one major supply route that
remained for the rebels was from Tanzania across Lake Tanganyika. As
the number of supplies reaching the rebels along this route steadily
increased, the CIA was determined to interdict the arms flow. To do so
would necessitate creating a maritime patrol for the Congolese
government. This task was given to
Thomas Clines
, the deputy head of the
DDP's Special Operations Division maritime branch. Clines faced two
problems: how to transport suitable maritime craft into the middle of
Africa, and to find crews to man them. The first problem was solved when
an idea, proposed by CIA contract agent
Edwin Wilson
, was to cut the
boats into sections, transport them by C-130s to the lakeside city of
Albertville, and then reassemble them.94 The type of boat that was
eventually sent was the U.S. Navy patrol craft called the Swift boat.
Several of these boats were being used at the time by Cuban exiles based
out of Nicaragua. This boat was fifty feet long and was armed with three
heavy machine guns as well as an 81mm mortar. Due to the absence of
trained Congolese to operate the boats, the CIA contracted sixteen Cuban
exiles who had previous experience launching seaborne attacks against
Cuban targets and also took the boats they were using.95 An additional
thirty sailors from 5 Commando were given training by the Cubans. U.S.
Navy SEAL Lieutenant James Hawes was brought from Vietnam and
placed in charge of this unit, which reported directly to the CIA station in
Leopoldville.96 In addition to the half dozen or so Swift boats, the
maritime patrol included several troop-carrying barges. The CIA also
provided radar and armaments for the Belgian steamer Ermans, the ship
that would eventually become Hoare's ''flagship.''97
(...)
_
94 Edwin Wilson would later gain notoriety as a rogue agent working for Libya's
Muamar Qaddafi.
95 Frank R. Villafana, Cold War in the Congo, p. 171; David Corn, Blond Ghost:
Ted Shackley and the CIA's Crusades (New York: Simon and Schuster, 1994),
pp. 115–116, 137, 319; Felix I. Rodriguez and John Weisman, Shadow Warrior
(New York: Pocket Books, 1989), p. 147; Peter Maas, Manhunt (London:
HARRAP, 1986), pp. 28–29; and Joseph C. Goulden, Death Merchant: The
Rise and Fall of Edwin P. Wilson (New York: Simon and Schuster, 1984),
pp. 39–40.
96 Piero Gleijeses, Conflicting Missions, pp. 134–135; and Mike Hoare, Congo
Warriors, p. 242.
97 Ibid.; Sean Kelly, America's Tyrant: The CIA and Mobutu of Zaire, p. 162; CIA
situation report, 14 April 1965; Mike Hoare, The Road to Kalamata, pp. 33–45.
The exact number of Swift boats sent varies depending on the source, but ranges
from six to eight.
_ _ _ _ _
C'est peut-être une piste expliquant comment Guillaume Vogeleer a été recruté pour le Chili où il a pris des photos le jour de la mort de Salvador Allende (11 septembre 1973).
http://spartacus-educational.com/JFKclinesT.htm
(...)  In 1972 Clines was put in charge of CIA operations in Chile and the following year he helped Augusto Pinochet overthrow Salvador Allende.  (...)
Note
: l'ambassadeur Douglas MacArthur II était bien entendu au courant des activités militaires au Congo à l'époque de "Dragon rouge".